Emmy Awards 2010 - Les nominations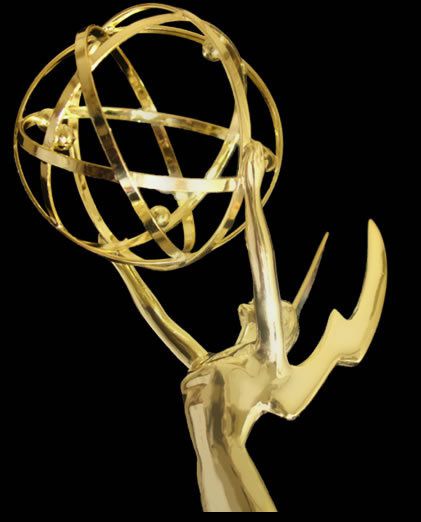 C'est aujourd'hui, jeudi 8 juillet à 15h30, que l'Académie des arts et des sciences de la télévision américaine a dévoilé les nommés de la 62e cérémonie des Emmy Awards. Considérée comme l'équivalent télévisuel des Oscars, la cérémonie récompense les meilleurs programmes de la télévision américaine. Avec 19 nominations, le phénomène musical Glee part favori. Présente dans 24 catégories, la mini-série The Pacific détient le record de nominations de la saison.

Dans les catégories reines, Larry et son nombril, The Office, Nurse Jackie, 30 Rock, Glee et Modern Family concourent pour l'Emmy Awards de la meilleure série comique. True Blood, Mad Men, Breaking Bad, Dexter, The Good Wife et Lost tenteront elles de décrocher le prix le plus important de la soirée. Celui de la meilleure série dramatique.

Le 29 août prochain, les gagnants seront révélés lors d'une grande soirée diffusée en prime time sur NBC.
les principales nominations des Emmy Awards 2010 :

Meilleure comédie
Larry et son nombril
Modern Family
The Office
30 Rock
Nurse Jackie
Glee

Meilleure série dramatique
Breaking Bad
Dexter
Lost
Mad Men
The Good Wife
True Blood

Meilleure mini-série
The Pacific
Return To Cranford

Meilleur acteur dans une série dramatique
Bryan Cranston, Breaking Bad
Michael C. Hall, Dexter
Kyle Chandler, Friday Night Lights
Hugh Laurie, House
Matthew Fox, Lost
Jon Hamm, Mad Men

Meilleure actrice dans une série dramatique
Kyra Sedgwick, The Closer
Glenn Close, Damages
Connie Britton, Friday Night Lights
Mariska Hargitay, New York Unité Spéciale
January Jones, Mad Men
Julianna Margulies, The Good Wife

Meilleur acteur dans une comédie
Alec Baldwin, 30 Rock
Jim Parsons, The Big Bang Theory
Steve Carell, The Office
Tony Shalhoub, Monk
Larry David, Larry et son nombril
Matthew Morrison, Glee

Meilleure actrice dans une comédie
Tina Fey, 30 Rock
Julia Louis-Dreyfus, Old Christine
Toni Collette, United States of Tara
Edie Falco, Nurse Jackie
Amy Poehler, Parks & Recreation
Lea Michele, Glee

Meilleur acteur de second rôle dans une comédie
Jesse Tyle Ferguson, Modern Family
Chris Colfer, Glee
Jon Cryer, Mon Oncle Charlie
Ty Burrell, Modern Family
Eric Stonestreet, Modern Family
Neil Patrick Harris, How I Met Your Mother

Meilleur acteur de second rôle dans une série dramatique
John Slattery, Mad Men
Martin Short, Damages
Aaron Paul, Breaking Bad
Terry O'Quinn, Lost
Andre Braugher, Men of a Certain Age
Michael Emerson, Lost

Meilleure actrice de second rôle dans une comédie
Jane Lynch, Glee
Jane Krakowski, 30 Rock
Kristen Wiig, Saturday Night Live
Sofia Vergara, Modern Family
Julie Bowen, Modern Family
Holland Taylor, Mon Oncle Charlie

Meilleure actrice de second rôle dans une série dramatique
Christina Hendricks, Mad Men
Rose Byrne, Damages
Archie Panjabi, The Goos Wife
Sharon Gless, Burn Notice
Elisabeth Moss, Mad Men
Christine Baranski, The Good Wife

Meilleure distribution pour une comédie
Glee (FOX)
Nurse Jackie (Showtime)
Modern Family (ABC)
30 Rock (NBC)
United States of Tara (Showtime)

Meilleure distribution pour une série dramatique
Mad Men (AMC)
Dexter (Showtime)
Big Love (HBO)
Friday Night Lights (NBC)
True Blood (HBO)
The Good Wife (CBS)

Meilleure guest-star masculine dans une comédie
Mike O'Malley, Glee
Fred Willard, Modern Family
Eli Wallach, Nurse Jackie
Jon Hamm, 30 Rock
Neil Patrick Harris, Glee
Will Arnett, 30 Rock

Meilleure guest-star masculine dans une série dramatique
Robert Morse, Mad Men
Alan Cumming, The Good Wife
John Lithgow, Dexter
Ted Danson, Damages
Gregory Itzin, 24h Chrono
Dylan Baker, The Good Wife
Beau Bridges, The Closer

Meilleure guest-star féminine dans une comédie
Kristin Chenoweth, Glee
Tina Fey, Saturday Night Live
Jane Lynch, Mon Oncle Charlie
Kathryn Joosten, Desperate Housewives
Christine Baranski, The Big Bang Theory
Betty White, Saturday Night Live
Elaine Stritch, 30 Rock

Meilleure guest-star féminine dans une série dramatique
Mary Kay Place, Big Love
Lily Tomlin, Damages
Sissy Spacek, Big Love
Elizabeth Mitchell, Lost
Ann-Margret, New York Unité Spéciale
Shirley Jones, The Cleaner