#Deauville2014 - Le programme complet - Hommages, Jurys, Les Films en Compétition et en Avant-Premières
40 ans ! Le festival du cinéma américain de Deauville fêtera du vendredi 5 au dimanche 14 septembre 2014, et de grands rendez-vous, sa 4e décennie d'existence.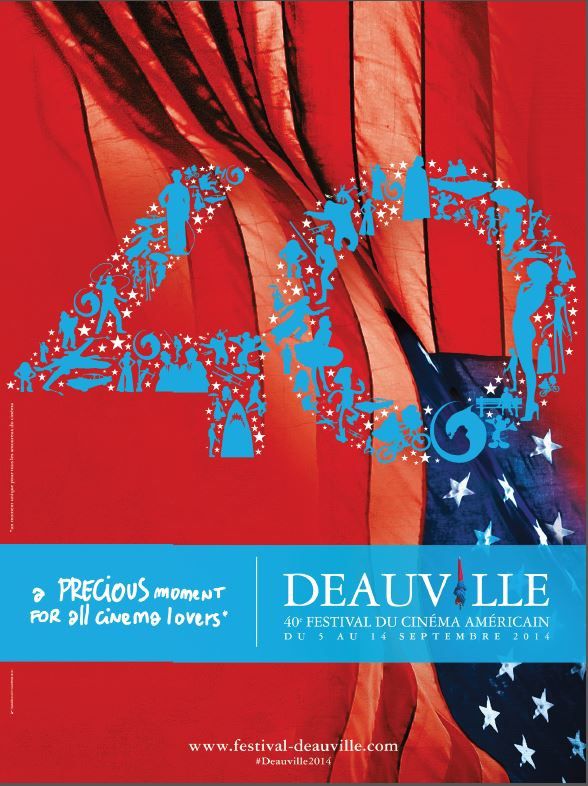 L'occasion de réunir un plateau d'excellence, avec des hommages à John McTiernan, Will Ferrell, Ray Liotta, Jessica Chastain, Lauren Bacall, Robin Williams, Yul Brynner (Deauville Legend) et James Cameron. Pas mal pour 9 jours de festival !
Côté jury,
c'est aussi une sélection spéciale anniversaire, avec d'anciens présidents sur le retour : Costa-Gavras (en chef de file), Emmanuelle Béart, Pierre Lescure, Vincent Lindon, Jean-Pierre Jeunet, Claude Lelouch, Marie-Claude Pietragalla et André Téchiné.
Le jury de la révélation Cartier sera lui constitué d'Audrey Dana, Freddie Highmore, Anne Berest, Lola Bessis, Héloïse Letissier (Christine and the Queens) et Clémence Poesy.
EN COMPETITION
A girl walks home alone at night, d'Ana Lily Amirpour
avec Sheila Vand, Arash Marandi, Marshall Manesh |
I Origins, de Mike Cahill
avec Michael Pitt, Brit Marling, Astrid Berges-Frisbey
It Follows, de David Robert Mitchell
avec Linda Boston, Heather Fairbanks, Aldante Foster, Keir Gilchrist
Jamie Marks Is Dead, de Carter Smith
avec Judy Greer, Liv Tyler, Cameron Monaghan, Morgan Saylor
Juillet de sang (Cold in July), de Jim Mickle
avec Michael C. Hall, Sam Shepard
Love is strange, d'Ira Sachs
avec John Lithgow, Alfred Molina, Tatyana Zbirovskaya, Olya Zueva
The Better Angels, de A.J. Edwards
avec Jason Clarke, Diane Kruger, Brit Marling, Wes Bentley
The Good Lie, de Philippe Falardeau
avec Corey Stoll, Reese Witherspoon, Kaitlyn Ervin, Sarah Baker.
Things people do, de Saar Klein
avec Wes Bentley, Haley Bennett
Un homme très recherché (A Most Wanted Man), d'Anton Corbijn
avec Rachel McAdams, Robin Wright, Philip Seymour Hoffman, Grigori Dobryguine, Willem Dafoe
Uncertain Terms, de Nathan Silver
avec David Dahlbom, Adinah Dancyger, Casey Drogin, Hannah Gross
War Story, de Mark Jackson
avec Catherine Keener, Hafsia Herzi, Ben Kingsley, Vincenzo Amato
Whiplash, de Damien Chazelle
avec Miles Teller, J.K. Simmons, Melissa Benoist, Paul Reiser
White Bird in a Blizzard, de Gregg Araki.
avec Shailene Woodley, Eva Green, Shiloh Fernandez
EN AVANT-PREMIERE
Magic in the moonlight, de Woody Allen (film d'ouverture)
Avec Emma Stone et Colin Firth.
Alex of Venice, de Chris Messina
avec Mary Elizabeth Winstead, Chris Messina, Don Johnson
Avant d'aller dormir (Before I Go to Sleep), de Rowan Joffe
avec Nicole Kidman, Colin Firth, Mark Strong 
Camp X-ray, de Peter Sattler
avec Kristen Stewart , Peyman Moadi, Lane Garrison...
Avec Jon Favreau, Robert Downey Jr., Scarlett Johansson
Deepsea Challenge 3D, de John Bruno, Ray Quint & Andrew Wight
Get on up, de Tate Taylor Biopic James Brown
Chadwick Boseman, Nelsan Ellis, Dan Aykroyd 
Infinitely polar bear, de Maya Forbes
avec Zoe Saldana, Mark Ruffalo, Keir Dullea, Wallace Wolodarsky
Land Ho !, de Martha Stephens & Aaron Katz
avec Earl Lynn Nelson, Paul Eenhoorn, Daníel Gylfason, Þrúður Kristjánsdóttir.
Légendes vivantes, d'Adam McKay
avec Will Ferrell, Steve Carell.
Les Boxtrolls (The Boxtrolls) d'Anthony Stacchi & Graham Annable
Les Recettes du bonheur, de Lasse Hallström
avec Helen Mirren, Om Puri
The disappearance of Eleanor Rigby : them, de Ned Benson
avec James McAvoy, Jessica Chastain
LES DOCS DE L'ONCLE SAM
Life Itself, de Steve James
National Gallery, de Frederick Wiseman
The Go-Go Boys : The Inside Story of Cannon Films, de Hilla Medalia
Last Days in Vietnam, de Rory Kennedy
ET AUSSI…
2 épisodes de The Strain en avant première, la série de Guillermo del Toro